Personal Development
PDP - Personal Development & Character Education Pathways
Every student at The Malling School is expected to follow a particular Personal Development Pathway (PDP), depending on their year group. PDPs focus on the achievement and enjoyment that can be found outside of normal lesson time.
PDPs at TMS - 'One Student, Four Pathways', as shown below: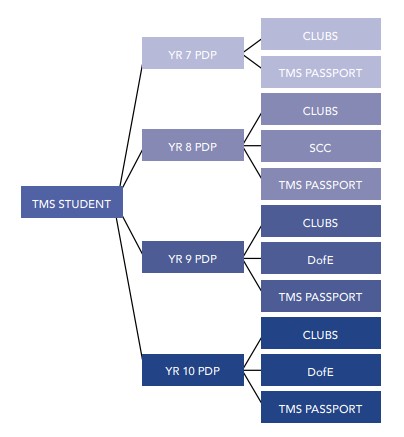 Every student at TMS will choose at least one extra-curricular club to join and attend regularly throughout the academic year.
Participation and regular attendance is strongly encouraged and monitored. Non-participation is followed up so we can ensure our students are benefiting from the wide-range of opportunities they are presented with during the course of an academic year which will help them show 'The Malling School Way'.
PDP 2 - Sea Cadet Corps (SCC) Unit
TMS students can become enrolled as Sea Cadets in our very own school based unit. There is the opportunity to join our Sea Cadet Corp Unit towards the end of Year 7 once a student is 11 years and 8 months old.
In 2019, we were very proud that The Malling School was accepted by the Department for Education (DfE) and The Ministry of Defence (MoD) as a school-based Sea Cadet Corps training unit. We are known as The Malling School Division Sea Cadet Corps.
Sea Cadets is different from school. There's a lot of learning. But it's done through activities – on the water and off the water. Our unit is led by Mr Hammell. Mr Hammell works at The Malling School SRP. He is also a Sub Lieutenant in the Sea Cadet Corps (Royal Navy Reserve). Prior to working at TMS, Mr Hammell spent 27 years in the Royal Navy reaching the rank of Chief Petty Officer. They are supported by other TMS staff who commit their own time to help run our unit.
Being part of the Sea Cadets is also different from home, a break from screens and being cooped up inside. The experience we offer is built on the customs and traditions of the Royal Navy. It complements our current work and commitment to developing our students' character and helps them prepare for the adult world. Our students will meet other cadets at events around the UK, and possibly on trips abroad. They will learn to be comfortable with meeting people from different places and backgrounds, and confident in dealing with new situations, which can make going out into the world so much easier later on.
If you think Sea Cadets sounds like having orders barked at you, please think again. Many cadets do want to learn to be a bit more self-disciplined, but our school-based staff and other Sea Cadet instructors will help with that and make it fun. Being part of the TMS Sea Cadet Corps unit will also help our students to try things they've never done before, safely, and to support them until they achieve it.
The Sea Cadet Corps is a uniformed organisation and as such, subscriptions will be necessary. A one-off £40 joining fee is applicable which will cover the cost of accessories, badges for uniform and equipment throughout their time as a Cadet. Thereafter, a £10 monthly payment is required to pay for costs of training activities.
Our unit training sessions will be held on school site on a Wednesday night, directly after-school.
PDP 3 - Duke of Edinburgh (DofE) Award Scheme
Every Year 9 student will participate in and achieve the DofE Bronze Award Scheme. There will also be the opportunity for our students to participate in the Silver Award in Year 10 should they wish to do so.
The DofE is the world's leading achievement and can enhance a young person's employability prospects because it helps to develop leadership, teamwork, self-motivation, communication, confidence, consideration and the ability to learn. Results of national surveys show that these are the qualities that employers value the most.
All Year 9 students are expected to enter, follow and have the opportunity to complete all of the sections of the award before the end of Year 9.
The DofE programme captures our belief that all students should be given every opportunity to develop interests outside of the curriculum, as well as a firm belief in developing their character, determination, reflection and resilience.
Doing DofE in Year 9 is just one way we encourage our students to follow 'The Malling School Way'
PDP 4 - TMS Cultural Passport
At TMS, we want to educate our students in a cultural context. Culture is an essential ingredient for developing character and leading a fulfilling and richly rewarding life. Culture helps us to see the world differently and understand our place within it. A rich cultural heritage builds our sense of who we are and where we are from, affirms our identity and helps us to build our resilience and self-esteem.
Kent is largely rural, extensively coastal, with internationally important arts and heritage, post-industrial estuary towns and inspirational cultural landscapes. It has a distinctive offer. Our county is the UK's main gateway to Europe, and with its unique location between mainland Europe and London is well positioned to maintain and grow an international outlook. We want our students to take advantage of this and have created a list of places to visit. At TMS, we want to encourage our students to take advantage of activities in and around Maidstone by recording their trips in a journal containing written accounts, photographs, blogs and videos which can be uploaded into their Microsoft Teams year group page.