Safeguarding
Safeguarding at The Malling School
Our school feels it is of the utmost importance to have good systems for protecting children and safeguarding their welfare throughout all the activities that the school undertakes. This means that staff must be alert to possible concerns about every pupil and report these in a proper manner. The school has a safeguarding and child protection policy and parents may request a copy of this should they wish.
It is important for parents/carers to be aware that
Staff at TMS have a duty to report concerns about a child, whether this means the child may be in need of additional support or help of some kind or whether it is thought that a child may have been abused or be at risk of abuse.
At TMS, we believe every child should be valued, feel safe and be happy. We want to make sure that our children know this and are empowered to tell us if they are suffering harm in some way
At TMS, we undertake to exercise proper care in the appointment and selection of all those who will work with children.
At TMS, we are committed to
Following the requirements for UK legislation in relation to safeguarding children and good practice recommendations
Ensuring that all staff adhere to the agreed procedures of our safeguarding policy
Keeping up to date with national and local developments relating to safeguarding
Following any local authority guidelines in relation to safeguarding children
Supporting the Designated Safeguarding Lead(s) in their work and in any action that they may need to take in order to protect children
Supporting parents and families
Nurturing, protecting and safeguarding children and young people
Supporting, resourcing, training, monitoring and providing supervision to all those who undertake this work
Supporting all in the school affected by abuse.
Children's Social Services has lead responsibility for investigating all allegations or suspicions of abuse where there are concerns about a child
Safeguarding is everyone's responsibility and not just the Designated Safeguarding Lead(s).
If you have any safeguarding concerns about a child at TMS, then contact a member of our Designated Safeguarding Team directly, using the contact information below: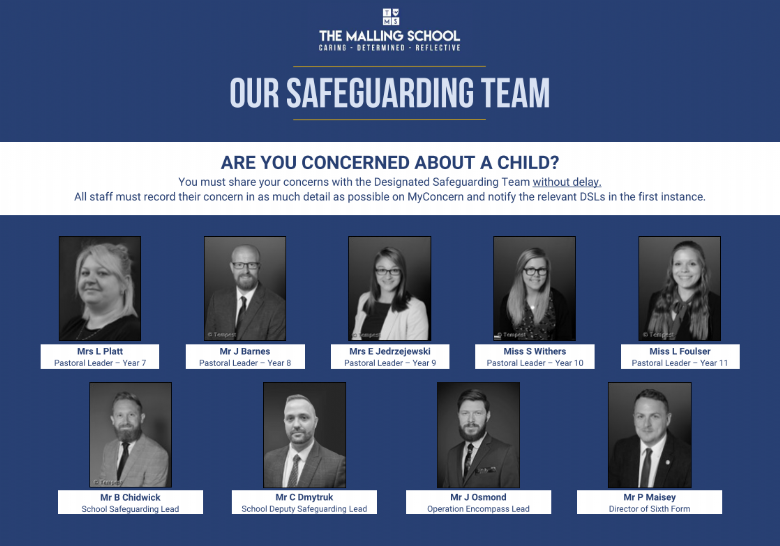 Outside of School Hours Support
We want to ensure that TMS students and their parents know where to go if they need help outside of school hours. Kent County Council run their own Education Safeguarding Service. Please see below for details of this:
They are available to provide advice and guidance Monday – Friday between the hours 09:00 – 17:00 on 03000 418503
An Out of Hours service is also available if outside of office hours on 03000 419191 (Education Safeguarding and Integrated Children's Services cannot give health advice relating to COVID19 – Please refer to Public Health England advice for health related queries)
Childline can offer help and support to pupils - Call 0800 1111 or visit www.childline.org.uk
Keeping Your Child Safe Online
A checklist for parents and carers
ask your child to show you the sites they use – this shows that you take an interest in your child it also means you can become familiar with the sites and find out how to set the safety features.
keep the computer in a family room – this means you can keep more control over what they do e.g. webcams
ask your child to set profile settings to private – settings on any social networking site should be set to prevent anyone viewing personal information and photos of your child.
ask your child about their online friends – this applies to social networking and gaming sites; people are not always who they say they are. Does your child actually know all of their 'friends'?
set appropriate parental controls on your child's computer, mobile and games console – filters can prevent children from viewing inappropriate content. You can also set time restrictions for using the Internet or games. Explain to your child why you are doing this. Your Internet Service Provider can offer advice on this or visit CEOP's parent site for advice.
make sure your child knows they can tell you if they are worried about something online – by opening up communication channels and talking to your child about the technology they use they are more likely to turn to you if they are concerned about something.
make sure you know where to get help if you are concerned – visit the www.ThinkUKnow.co.uk website which has a parent's area with advice and information. If you are concerned about someone making inappropriate contact with your child you can report this to CEOP, you can also find help if you think your child is being bullied online or have found something that could be illegal www.ceop.police.uk/safety-centre or look for the 'click CEOP button'
See also ChildNet