duke of edinburgh

2022
2021
Starting in 2021, all students at The Malling School participate in the Bronze Duke of Edinburgh's Award Scheme during Year 9. To find out more about the award and the opportunities available, please watch the assembly video below, then parents/carers can follow the consent link to get students started.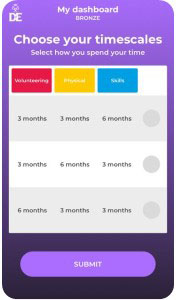 Sections
You need to complete you first three sections (Volunteering, Physical and Skills) for three months each.
You need to pick one of these sections to complete for another three months.
Your expedition sections will be carried out through the school, but you are expected to find other activities to complete for your first three sections.
You can find lists of potential activities by clicking on these links:
If you're stuck at anytime, get in touch with your tutor, head of year.
We hope that school clubs will be running as soon as possible:
Day

Lunchtime

After school

Monday

Choir/Miss Cox M6

Tuesday

Drama-Games/Mr Addis Drama Studio

Games/Strategy club/Ms Rowe T10

Unit Radio/Mr Whitehead/T4

Computer Games club/Mr MaiseyB3

Ecology Club/Mr Ryder B10

Cooking GCSE/ Mr De Roeck B2

Wednesday

Ukulele Club/ Mr Addis/M6

Debate Club/Mr Millard.

Unit Radio/Mr Whitehead/T4

Creative club/Mrs Laker Mrs Smith T1

Sea Cadets/ Mr Hammell B1

Dance club/Mrs Cook/Dance studio

Thursday

Hair and beauty/ Mrs Baker/Hair salon

Girls club/Mrs Cook T21

P1 TMS Band/Miss Cox M5

Reading club/Mrs Kelly T10

Cooking/ Mrs Devine/ B2 3.30-5.00

The Malling Makers/Mrs Sherwood-Farnfield B14

Malling Players Drama Club/ Mr Addis Drama Studio

Market wizards stock exchange club Yr 9 and above/Mr Rottcher/R20

Friday

Journalism R11 Mrs Finlay

Lego Club/Ms Rowe T1

Geography Club/Mrs Logan/B18
Volunteering Opportunities
During lockdown, volunteering is difficult, but why not try one of these?
When we are back at school, we hope to have the following sports clubs back running during the winter:
Rugby, Football, Netball, Handball, Fitness, Basketball, Dance
We hope the following clubs will be running during the summer:
Rounders, Cricket, Athletics
If you're interested in joining a school sports team, speak to Miss Barnes
If you're still stuck, why not take some inspiration from what members of staff have been up to?
You could make sensory square like Mrs Rowe, for dementia patients in hospitals and care homes - CLICK HERE
You could clear local footpaths like Mrs Bridges - CLICK HERE
You could help a family member with their homework like Mrs Platt - CLICK HERE
You could do a sponsored event like Mrs Thompson's 26 mile hike - CLICK HERE
You could go running like Mr Addis - CLICK HERE
You could play golf like Mr Fielding - CLICK HERE
You could go play football like Mrs Gubalova - Click HERE
You could learn to garden, like Mrs Steiner, Mr Addis, Mrs Gubalova and Mr Potter (click the name to view)
You could practice baking like Mrs Gubalova - CLICK HERE
You could learn dog training like Mr Potter - CLICK HERE
You could be like Mr Addis and practice Bike Maintenance, Ecological Study, Playing the Guitar, Painting and Palaeontology! (click the skill to view)